Eco Friendly Watering System
Ecobags is an eco friendly watering system for establishing trees and shrubs in domestic, commercial and environmentally sensitive areas, particularly arid, desert, isolated, and drought affected regions.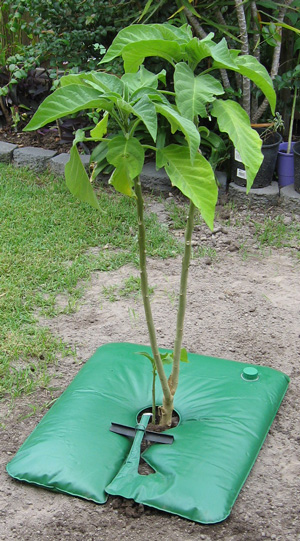 Landscape areas
New estates, corporate planting, hospitals, administration buildings
Domestic gardens
Dry areas, drought times, holiday times, water conservation
Once a month watering
Parks and roads
Street Planting, median strips, embankments, roundabouts.
How many times have "work for the dole" re-generation plantings along the beaches DIED due to irregular watering.
Mine reclamation
Reforestation, revegitation, landscaping remote areas
Botanical Golf courses
Water the trees not the golfers!
Beach areas
Revegitation
Isolated areas
Set and forget for a month!
Farm trees
Both shade and stock fodder type
Any area where previously it had been difficult to grow trees and shrubs.
NOTE: In colder areas the ECO bag provides increased growing potential as it acts as an insulator providing warmth to the root zones.